Celebration of Life or Memorial Packages
Watch the video above to get details about our package
There are so many things to worry about when a loved one has suddenly died. Besides dealing with the grief, you need to plan a memorial service or funeral. One of the more popular ways to send off a loved one today is with a celebration of life ceremony. This is done a little while after the death, the friends gather to pay tribute to the life of a love one and share all the moments of life they cherished about the person. Our videos are a huge part of these celebrations. Whether you are doing a Celebration of Life or a typical memorial service we have created a special package to help in celebrating the life of the loved one and to remember the person long after the celebration is over.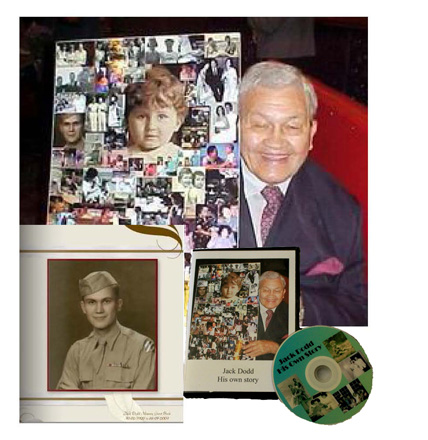 Special Celebration of Life Package
---
Montage or Slideshow
This starts out at 90 pictures or more. This is a montage that includes a number of eliminates to tell your story. This includes photos, video clips, titles, music and even a optional voice over narration to tell your story. With this montage you can break your video up to sections, such as The early years, The wedding day, The birth of your first child, Friends and Family, etc… Each section is introduced with a special title page. Video clips can be mixed with photos to add special moments among the photos. With this mixture of items there is no limit to the creative means we can use to tell your story. To make it even more special see how this video can be made into a biography video.
All videos include pan and zoom and your choice of standard or carefully selected graphic transitions.
Every video comes with one DVD in a custom designed case with personally created menu

One USB Flash drive with all your scanned pictures and a video file that can be played on computers, on some televisions and projectors, on tablets or on digital frames

A private link on our website to share the video with family and friends after the event.
Pricing and print order form
Memorial Website
The website we create for our clients is on a platform called last.memories.com. This is set up so that you can place pictures of your loved one, their life story, the time and the place of the Celebration of Life. Friends and family can write condolences, memories, share their pictures and light candles for your loved one. It becomes a type of community of love, and support for everyone feeling the loss of their friend and family member. This memorial website becomes a link that you can use by email and place on social media sites to announce the death of your loved one, and have your friends and family spread the news to others. This helps in not having to personally call up everyone and let him or her know about the arrangements.
Pricing
to set up website
$35.00
Memorial Program
A great addition to a celebration of life or memorial is a keepsake program. We create two types. You have the option of single fold or booklet. After we create the graphic file, we can send them over to a printer of your choice for you to pick up for your event.
Pricing
Pricing for file of Program -- 1 sheet $45.00 -- 2 sheet booklet $90.00
We can send file to printer
Price for our printing $1.00 per sheet. Plus shipping if needed.
Picture Poster Board
The picture poster board is the first thing your guest see when entering your celebration of life or memorial. After we create your video we can take your favorite pictures and create the graphics for picture poster board to welcome your guest. Create one poster to cover their life on a number of posters to display different aspects of their life. After we create the graphic file, we can send them over to a printer of your choice for you to pick up for your event.
Pricing
Price for creating file for poster $35.00
We can send the file to a printer of your choice
Price for 20 x 30 printing $50.00
Personalized Guest Book
A special guest book that is more than just a book for guest to sign. This book includes pictures and information about the person you are celebrating, making it a family heirloom for generations of family members.
Pricing
8.5" x 11" 20 page Portrait Hard Cover Book with Dust Cover $120.00
Additional Pages $6 each
---
Click here for Order Form-print out with order
*Prices subject to change

---
Blog's About Celebration Of Life
*Prices Subject to change